Staff Memo (tentative) is a file in Dino Crisis.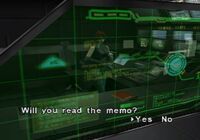 The file is placed on the terminal inside the control room B3.
Transcript
Edit
Attention: Alan

The weapon container at the General Weapon Storage will be carried out from the port next week. Please finish the maintenance of the crane within the week.

I will hand you the DDK to enter the port so that you can finish the job. Make sure that you keep it on you at all times.
アレンへ

来週、 一般兵器庫の武器コンテナを港より搬出する。 兵器庫のクレーンの整備は今週中に済ませておいてほしい。

また、 搬出作業にそなえて、 港へ入るためのDDKを渡しておく。 管理には気をつけて、 いつも身につけておくようにしてくれ。
Bibliography
Edit
Dino Crisis files

Facility 1F
Facility 2F
Facility B1
Facility B2
Undefined
Ad blocker interference detected!
Wikia is a free-to-use site that makes money from advertising. We have a modified experience for viewers using ad blockers

Wikia is not accessible if you've made further modifications. Remove the custom ad blocker rule(s) and the page will load as expected.