Secret Operation Raid Team
Talk

3
762pages on
this wiki
Redirected from S.O.R.T
The Secret Operation Raid Team (S.O.R.T.) was a government trained and operated espionage and assault team. They are sent to Ibis Island to investigate the independent research being conducted by Dr. Kirk. They infiltrate the island using a government issued UH-1 Iriquois helicopter. During initial landing one team member Cooper is displaced from the rest from the team. The Government ordered mission is to secure Dr. Kirk, the scientist conducting research on Third Energy. The Mission suffers many problems right from the start such as the disappearance of Communication expert Cooper.
Ibis Island Assault
Edit
The S.O.R.T. team dispatched a spy (Tom) to Ibis Island research center to monitor the research being conducted by the unknown organization stationed at the Island. He quickly discovers that a scientist who was thought to be dead was the lead researcher on the Island's base. He also discovered that the research being conducted was on something called Third Energy. The government, who where looking for a new clean cheap energy for the over populated world became immediately interested in the project. Fearing that Dr. Kirk had faked his death to do independent research for his own gain, the government dispatched the S.O.R.T. team to capture Dr. Kirk and gain vital information on the Third Energy project.
Known members
Edit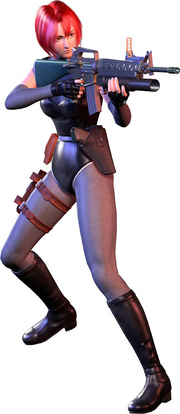 Cooper - The team's radioman and communication's expert; he is killed by a tyrannosaur at the beginning of the mission.
Regina - the team's weapons specialist
Rick - the team's computer specialist.
Tom - an agent sent to the island as a reearcher to spy on suspected weapons research
Unnamed - the pilot of the team's transport helicopter. He is killed during a failed rescue attempt.
Mickey - the author of an expenses report for SORT.
Erik - an agent reporting the progress of the "QED" project.
At first look at the S.O.R.T. team they would appear to be an American trained team, but after further investigation the team would more likely be a Canadian trained and owned team. The reasons for this are, they use a Huey helicopter, the main helicopter used by the Canadian Armed Forces. Canadian forces also train on Huey parachuting, while the American counter parts train mostly with Chinook parachuting but prefer planes for tactical infiltration. All the weapons used by the team (Excluding the G3 and the Glock) are all weapons used by the Canadian Military and not used by the US.
Most special forces teams used synchronized weapons, or at least the same assault rifle. Everyone on this team use different weapons.