Oviraptor
Talk

0
762pages on
this wiki
Oviraptor

Height:
2.5 meters
Length:
1.3 meters
Oviraptor is an enemy in Dino Crisis 2. their name is Meaning "Egg Robber".
Observation Records
Edit
Ever since coming to this world, we've encountered many different dinosaurs. But this is the first one we thought we could handle easily. But we soon learned that we were sadly mistaken. They are equipped with two arsenals. One is their sharp beak and the other is their poison. The name "Egg Robber" was originally based on misconception. But it turns out that they use their beaks to crack the hard shells of eggs, and to protect themselves they have acidic poison. They are well equipped in both
offense.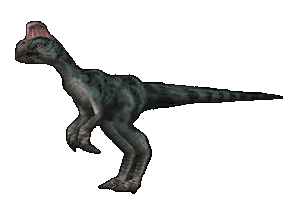 Combat Notes
Edit
You shouldn't stop moving when you fight them. Some will spit poison, some will jump-kick you. You will have a better chance of surviving if you continue to move around and attack. Their small size makes them a pain. They scamper and attack in groups. They really get on your nerves. To counter them, use a weapon with which you can blaze away. It should do the job.
Dino Crisis 2: Extra Crisis
Edit
Oviraptor is playable in Extra Crisis. In this mode it has access to all of its moves. It is notably the cheapest to purchase playable dinosaur for Extra Crisis. The player 2 colors in Dino Duel are the alternate orange color it has in the main game.
Strangely, Oviraptor can spit poison. This might have to do with the fact that either the developers got it confused with Dilophosaurus from Jurassic Park or they decided to go with it spitting poison instead of a Dilphosaurus to avoid a cliche.