Instruction Manual for the Crane (tentative) is a file that can be found in Dino Crisis.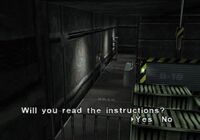 The file can be read from the notice behind the control for the crane inside the carrying out room B1.
Transcript
Edit
How to use the fully automatic control card operates crane:

The crane will execute its operations in the order of the control cards specified on the program screen.

The crane will initiate its operations once all the cards are set and "START" is selected.

During the operation, even if there are errors in the program, those errors will be automatically adjusted by the computer. Thus, there is no possibility of any kind of accident occurring.

Ad blocker interference detected!
Wikia is a free-to-use site that makes money from advertising. We have a modified experience for viewers using ad blockers

Wikia is not accessible if you've made further modifications. Remove the custom ad blocker rule(s) and the page will load as expected.