"The card data may be overwritten when facility personnel changes occur."
— Inventory description.
The ID Card is a key item that can be found in Dino Crisis.
This card can be used to gain access to certain area with a card reader.
The card data can be rewritten by using the device inside the office on the facility first floor, though it also require the personnel fingerprint.
The fingerprints can be collected in different location using the F. C. Device:
As player about to rewrite the card data, the personnel registration number must be type on the device depending on which fingerprints they had collected:
Paul Baker - 58104
Mark Doyle - 57036
With the card rewritten, different description will shown on the Inventory Screen:
"Certifies the access type of "Researcher"."
— Using Paul Baker registration number.
"Certifies the access type of "?"."
— Using Mark Doyle registration number.
It can be found on the desk, inside the medical room of the facility B1. The ID card description was:
"Certifies the access type of "Colonel"."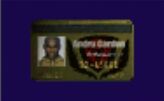 There is another ID Card that allow access for the elevator inside the control room 1F. This card can be retrieved from Dr. Kirk at the carrying out room B1. The ID Card description was:
"It can activate the elevator that leads to the Communication Room."

/
"Certifies the access type of "Communicator"."

Ad blocker interference detected!
Wikia is a free-to-use site that makes money from advertising. We have a modified experience for viewers using ad blockers

Wikia is not accessible if you've made further modifications. Remove the custom ad blocker rule(s) and the page will load as expected.