"The words "Main Entrance" are carved into it."
— Inventory description.
The Entrance Key is a key item in Dino Crisis.
It is used to unlocked the front door to the entrance, from the Main Entrance in Facility 1F.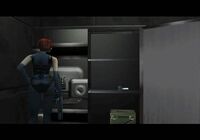 It is located inside a safe in the Management Office. The code for the safe can be either "0426" or "0375".
Bibliography
Edit